Philip Gamble Cert.Ed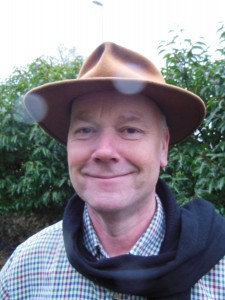 Philip trained in horticulture at Cannington College, Somerset, in its heyday.
On completing his studies in 1982 he was awarded the Advanced National Certificate in Amenity Horticulture and further qualifications in horticultural science, botany, turf culture and decorative horticulture. He was elected student committee chair, won the practical cup and prize for his course and was awarded the college challenge cup and prize for the greatest contribution to the life and work of the college.
The following day he took up post as Head Gardener to the Lord-Lieutenant of Somerset, Lt. Colonel W. Luttrell. While at East Quantoxhead he also ran the Quantock Conservation Volunteers for the County Conservation Warden Service.
He was asked back to Cannington College to join the lecturing team training students in horticultural skills for the Manpower Services Commission. At this time he also worked with Penelope Hobhouse preparing design plan drawings for presentation to clients, including the replanting of extensive gardens for the Rothschilds near Paris.
Having completed the Certificate in Education at the National Agricultural Training Unit he took up post as horticultural lecturer at Kingston Maurward College, Dorchester. UK. During ten years at the college, he sat on the Horticultural Development Committee, was a member of the college warden team, ran both the college Open Day & Prizegiving events and held two course tutorships. These involved the development of the syllabus and facilities for the Level 3 Sports Turf Management Course. Through in-servise training he continued to increase his qualifications becoming an NVQ Level 4 Assessor. A student on Philip's Year Two Course was awarded the City and Guilds medal for national top student. Further teaching specialisms included propagation and nursery practice to National Diploma. Students on Philip's Organic Course went on to found the West Dorset Organic Gardening Group and invited him to take the Chair for it's first four years. During that time he was awarded the Certificate of Permaculture Design accredited through the Permaculture Association UK.
He then joined IPC Publishing on their title of the year "Your Garden" magazine. As freelance photographer, writer and sub-editor & was also Gardens Advisor on the "Your Garden" National Telephone Helpline.
In 1999 Philip was appointed Head Gardener of the Pecorama Millennium Garden at Beer, Seaton, Devon, UK, where he worked with garden designer Naila Green planting a major new development opened by Anne Swithinbank in July 2000. Here his responsibilities included accompanying gardening groups on guided tours and providing illustrated talks to visitors using his extensive library of professional horticultural images. Philip has appeared on gardening question time panels with Anne at local events and on one occasion stepped in to present one of her talks when she was indisposed.
Now a freelance lecturer, gardens advisor, designer and photographer he is a popular speaker developing a range of short courses, garden events and talks in horticulture and related subjects. They are illustrated with images of both public and private gardens throughout South West England.
Inspired by study at Richard Sneezby's School of Garden Design at University College Falmouth, Philip is working with many private clients on design and development projects, one of which has been underway for three years so far and will soon be available as a 'Before and After' talk.
In 2010 Emma Britton at BBC Somerset Sound asked Philip to join the studio panel of "Have Your Say" on her morning show. He also features as a guest on her Saturday show slot "Who's In The Garden."